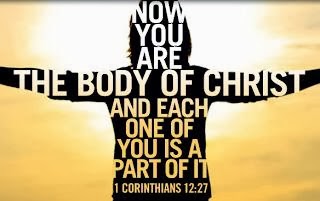 The way God designed our bodies is a model for understanding our lives together as a Church: every part dependent on every other part, the parts we mention and the parts we don't, the parts we see and the parts we don't. If one part hurts, every other part is involved in the hurt, and in the healing. If one part flourishes, every other part enters into the exuberance.
You are Christ's body—that's who you are! You must never forget this!
Highlights of I Corinthians 12 Message Bible

Let's Connect and Work Together As One Body to Advance the Kingdom of God Throughout the Earth!